At the 2017 World Rowing Coaches' Conference, a wide-ranging and interesting discussion about data was had.
Covering data collection devices, data management platforms and some philosophies around the use of data in Rowing.
Speakers were:
Dr. Henk-Jan Zwolle (MyPerfectCoach)
Dr. Conny Draper (Biomechanist)
Adrian Cassidy (Ludum)
Michael Naughton (NK)
Dr. Valery Kleshnev (BioRow Ltd)
The theme of the 2017 World Rowing Coaches' Conference (which took place in London in December 2017) was the use of data technology. In particular, it looked at how the use of such technology can help make boats go faster. However, the discussions also focused on asking the right questions about what information should be measured and how to measure it, in order to help find more speed.
Dr Valery Kleshnev, founder of BioRow Ltd, told the conference that the key questions to ask are what needs to be measured, in sport (and, particularly, rowing) science terms; and how to measure it correctly, in technology terms.
Discussing the principles of performance measurement, analysis, and feedback in rowing, Dr Kleshnev said "it is very important to choose the most valid and informative variables to measure, and give them correct interpretation, reliably related to rowing performance."
Adrian Cassidy, co-founder of the Ludum training data and communications management platform, added "The thing for me that's interesting now, with all these different data sources that are coming in, [is] what's important to measure is about to change."
"Because we could measure it before and we could manage the data, we would stick to what we knew," he continued. "Now, with all these data sources coming in, it's going to ask different questions."
"Not everything that is important is measurable," Cassidy continued, "but … more and more stuff is going to become measurable." As a result, he argued, a challenge for coaches is the need to understand what the data really means.
"I think it is very important that what we measure is very applicable to the sport we are using and to the level of who you coach," said applied sports biomechanist Dr Conny Draper. "Then, obviously, the information you collect needs to be coachable," Dr Draper continued. Such data "needs to be 'trainable' … for the athlete. They need to be able to relate to that [information]," she added.
However, although the discussions focused on the role of technology, speakers emphasized that the coach and the training programme retain primacy in improving boat speed. Michael Naughton – Director of Product Management at sports performance instruments designer and manufacturer Nielsen-Kellerman Co, and also a Philadelphia-based coach – said "The biggest way we can make our boats go faster is to optimise our athletes, and that's both technically and with their strength and conditioning."
In this sense, technology was viewed as an enabler, supporting the primary focus on effective coaching and training.
Henk-Jan Zwolle, an Olympic gold medallist and founder of MyPerfectCoach, reinforced this point. He said the MyPerfectCoach training and recovery planning system "is an assistant" to the coach. "It's not a threat," he continued: "It's a companion."
Dr Draper noted that while the use of technology certainly can advance rowing as a sport, "we also have to make sure that technology can only assist and not replace the art of coaching." "This is for me always rule no.1," she said. "Keep the gut feeling of what's right or wrong, [and] use the technology as your assistant."
Speakers also pointed to the importance of feedback in improving athlete performance. Such feedback comes in the form of information both from the technology to the coach and athlete, and from coach to athlete; it relates also both to boat speed and land training performance.
"The main thing is how to get useful feedback," said Zwolle. "The most important thing about measuring data is to get reliable and useful feedback from the coach, from the system, [and] not just collecting data."
"The athlete is a main source of information," Zwolle told Ludum. With the athletes providing personal data, this means the athlete needs to be in charge of the data, he added. "Coaches can only get reliable data from the athlete if they give enough responsibility to the athlete."
In addition, Zwolle continued, "Training time is only a small part of the day." "Most of the day, athletes are not training but are recovering from training, [and] that is their responsibility …. Measuring the effects of recovery is equally as important as measuring training performance.
Naughton said that Nielsen-Kellerman's combining of its EmPower oarlock (designed to measure force and angle on the gate) with its GPS-based SpeedCoach (designed to measure outputs such as stroke rate, boat speed, and time splits, with a 'Skills Screen' added to display data to the athlete) was intended to help an athlete make a boat go faster on the next stroke by providing immediate feedback on how a technical change was affecting boat speed.
The importance of effective feedback also raised the question of the ability to rely on technology and the data it generates. Dr Draper said "When you use information it is objective information, but we also have to be aware that equipment can fail, and you need to be very careful how you use information and what you trust."
Moreover, Dr Draper underscored the need to understand the technology system in use, what it is measuring, and how it is set up. Reinforcing the primary role of the coach, she concluded that today's coaches are all experienced in reading and understanding objective data, if it is presented in the right way.
The role of data, and the wider use of technology, is continuing to grow and will have increasing impact on developments in the rowing world. Coaches are seeking to maximise the performance outputs they can generate from the data input, and this raises the question of whether there are established methods and models that can help them to do this.
View more content like this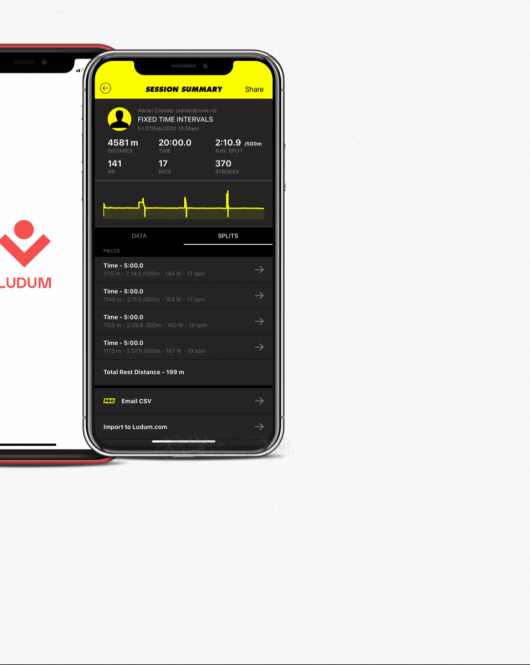 Data, Performance & Analytics
When I began a career in sports science, I had big hopes and dreams. I had studied hard, understood the theory, and was excited to
Data, Performance & Analytics
When I began a career in sports science, I had big hopes and dreams. I had studied hard, understood the theory, and was excited to