The University off London has embraced the use of technology to optimises their performance. Using data as a way of shifting the cultural within their team and driving a more transparent process. Not only do the athletes have a better idea about what their training programme is, they also know how they are improving as compared to their team mates.
The ability to collect vast amounts of data for each athlete automatically and use that to track performance and improvement has given them a great advantage.
University of London Boat Club (ULBC) has a long-established history of producing international rowers and winning senior national trophies. Today, in an ever-more competitive rowing world, the club is continuing to compete at the highest national and international levels.
Coaches and athletes across the world are working harder to find the extra speed that can make the difference between winning and losing. One factor here is how technology can help find that edge. Talking to Ludum at UL's Chiswick boat house in 2017, then-UL chief coach Phil Gray pointed to the increasing use of technology in rowing in recent years. Like many other squads, UL has been looking at how technology can help crews go faster.
For the three seasons prior to that point, UL had been using the Ludum training, data, and communications management sports performance product. Ludum's platform is designed to assist coaches in building a training programme, and to improve athlete output by generating regular performance management, monitoring, analysis, and feedback based on data drawn from training sessions, including information submitted by athletes.
Gray said that he still used established training methods, but drew on data management and collection "as guidance and something to almost start to understand more".
"Unless you really understand [technology] and know how to use it in the best way, you as a coach is still your number one thing," he said. Gray added he used technology "as kind of a 'help guide', a route I'd go, or it might help me try something else out".
Culture shift
For coaches and athletes alike, the process of understanding and using technology-driven data involves a shift in thinking and culture. Gray noted that people don't like change, and that introducing new processes while using established methods can take time. As a result, when UL first starting using the Ludum platform, Gray said the club "started off very simply. The first thing we did was just put the training programme on it so that everyone could see it, and they could only see the training programme by looking on there."
As the coaches and athletes grew accustomed to using the system, elements were added steadily, for example recording ergometer scores. As these elements were added, their addition was reinforced with an emphasis on getting as much compliance as possible from the athletes.
While the modern generations of junior and senior rowers may be more accustomed to using technology in their lives, the need remains to demonstrate to the athlete how the increased use of data delivers improved output on the water.
"We have very driven athletes," said Gray. "The reason they're here is because they want to do well at rowing, not just because they want to sit in a boat."
The use of data, including information entered by athletes, enables the Ludum platform to be used to generate performance reports that in turn could be used to demonstrate athlete progress. While Gray acknowledged that his coaching team recognised the need to show the athletes the benefits of more regular data entry by feeding back more analysis from the data gleaned, he noted that "if [the athletes] feel like they are getting feedback and they're getting an advantage from filling stuff in, they're more likely to keep filling stuff in."
"So, I guess it's down to us. If we can show them that it's a benefit, then they'll do it because they want to be better," he added.
Adding value
When asked how the Ludum platform added value to the UL programme, Gray said "once we as a coaching team fully utilise it as well as possible and the programme's evolution has got to where it is or where it's going to be, it will make us able to do things that before we necessarily, as coaches, couldn't do." He mentioned in particular the synthesis and analysis of data to demonstrate athlete progress: this might traditionally be provided by a large team, including coaches, physiologists, and strength-and-conditioning teams; the Ludum platform now can provide this.
"The possibilities of how it can help inform what you do is massive compared to not having it," Gray added.
Drawing up athlete reports using Ludum enables a coach to monitor progress over a period of time and provide feedback to athletes. "Our interaction with the athletes can be a bit more informed," said Gray. Using Ludum "definitely helps quite a lot with that," he continued. When using the platform fully, he said, "the biggest thing … is that it will do a lot of the work for us but give us the answers that we can use", in terms of assessing athlete progress, selecting crews, or even monitoring fitness to train.
Integrating heart-rate monitors with the Ludum product enables athletes to compare water and ergo outputs. Using GPS data can help plot distances covered on the water. Gray pointed also to the benefits of collecting athlete and crew training data in a single repository. Being able to store and access information, year-on-year, on one system enables a coach to compare and contrast athlete performance, crew times, and crew successes across the season and against previous seasons. This is one of the most useful elements of the product, Gray said.
Communications
Ludum also contains a communications function that enables coaches to send messages to athletes. For example, this function automatically sends the athletes a daily email that sets out the training programme.
"Having an email sent to them each morning with what they have to do, they find really, really useful," said Gray.
Ludum also provides 'Morning Monitoring', a function for which athletes enter their heart rate each day; using a traffic light system, the software assesses whether the athlete is unwell, based on heart-rate pattern. While this information is available to coaches, the more important element of this function, said Gray, is that it helps the athletes make educated decisions about their fitness to train. It provides the athletes "with the material to make the decisions themselves, which then obviously cuts down the work we would have to do, and you'd hope would then motivate them that they're having a lot of control over their own training, which I think is good," he said.
As a consequence, Gray argued, UL athletes "generally [were] making much better decisions … than they would have made three or four years ago". He added that such preparedness has reduced the occasions on which UL has had to replace an athlete on race day or scratch a crew.
For a club like UL that has athletes dispersed at colleges and residences across London, doing different courses with different commitments, and having exam and coursework requirements to meet, Gray continued, Ludum also enabled data to be logged and monitored without athletes and coaches having to be in the same place to train all the time
View more content like this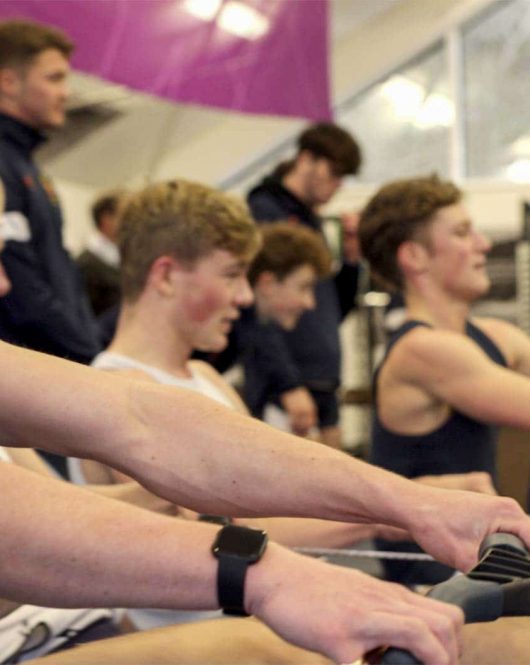 Data, Performance & Analytics
It's no secret that Ludum was born from the rowing community, we were originally called Rowe.rs after all! But despite the fact that we now
Data, Performance & Analytics
When I began a career in sports science, I had big hopes and dreams. I had studied hard, understood the theory, and was excited to