Tim MacLaren is one of the leading international coaches of his generation. He is a great coach educator and excels at inspiring and developing young coaches.
His intelligent and straightforward approach gives a great insight into how a world class coach operates.
In this article Tim covers several topics, but most important really opens the readers eyes to different ways of thinking and working.
Any avid Henley Royal Regatta watchers in 2017 might have noticed two things about the two UTS Haberfield Rowing Club crews from Australia. First, they both seemed to row with an emphasis on time around the back turn. Second, they both made the semi-finals, in the Britannia and Wyfold challenge cups respectively, both losing narrowly in a very tough year.
The crews were coached by Tim McLaren, as an athlete an Olympic silver medallist for Australia in quadruple sculls at the 1984 Los Angeles Olympics and as a coach delivering six Olympic medals in five different boat classes for Australia and the United States. McLaren visited the University of London boathouse in late 2017 for a Ludum seminar about sports coaching styles and aims.
Talking to a full house of almost 40 coaches, with Cambridge, Harvard, Radcliffe BC, and Oxford Brookes university boat clubs and a large number of schools represented, McLaren said his simple aim was to help coaches identify ways to see more clearly and communicate more effectively.
Coaches, he continued, should develop visual strategies for looking at the various ratios, shapes, and sizes within a crew and then work from 'large to smaller detail' in terms of coaching: this can help improve a coach's ability to communicate the desired change. Such an approach, McLaren told Ludum, would also improve a coach's understanding of technical and performance areas to concentrate on and would assist in determining what activity might help develop a crew in a certain area.
McLaren suggested that such strategies could begin with a focus on the run of the boat itself – which helps the coach see where the crew spends its time in the stroke in creating the boat's wider rhythm, and how this time and rhythm can be improved or encouraged. The coach can then determine activities, drills, or emphases that might develop a crew's sequencing, skill, speed, and timing.
Emphasising the importance of time, McLaren added that "Where to spend our time and having more power with efficient application improves the chances of creating a very fast crew."
He added that coaches should try to structure their understanding of what they see in terms of sequence, speed, and timing, and then develop how they communicate this by devising drills to challenge and improve the pattern.
Visual benefits
McLaren also highlighted the benefits of using visual, moving images when discussing technical issues, in order to reduce risk of confusion over the technical guidance being given. Focusing on the use of moving images and developing practical exercises can also help avoid lengthy explanations of 'rowing stroke theory', he argued.
He added that crew seating and set up, technique, training and physiology, and team-building are all intertwined in developing crews, from school to Olympic level.
In observing closely and developing each of these elements, coaches should construct "practical examples and communicate clearly the developments required to achieve the desired end state", he said. "Organising a strong pattern and then refining that sequence, speed, and timing is always the goal."
McLaren said that "all coaches get a general perception of [a boat's] ratio, rhythm, and run from any passing crew." "In a few strokes, they are absorbing details of boat run, blade work, and effort …. They form this view intuitively, assessing the ratio of drives and recoveries whilst admiring athletic timing of catches and finishes and co-ordinated changes of direction."
In terms of coaches communicating what they see, McLaren said that strong communications principles can be built around what Dr Mark Anshel has referred to as coaching 'commandments'. McLaren noted a few of these: to be credible and consistent; to have a sense of humour; to be positive; to praise/criticise performance not personality; to teach skills; and to set an example as a role model.
McLaren noted also the importance of what he termed 'coaching presence', something he thought encapsulated much of what makes a successful coach outstanding in their field. "To have presence," he continued, is "to stand up there and have a command of the group; to have confidence through clarity and conviction, and to be able to lead by example". In pursuit of a common goal, a coach should inspire – through actions, activities, and behaviours – the athletes "to embrace the simple challenge of working hard and persevering as a key part of being successful".
The best coaches, he said, generally emphasise this work ethic and perseverance rather than prioritising particular rowing technique models. Such coaches embrace the high standards and attitudes required for success in any field, but particularly in rowing, McLaren continued. For school crews, however, he noted that "coaches of course have to blend a greater awareness of the athlete's growth and development and the key role [these factors] are playing in the athlete's longer-term development."
Overall, said McLaren, "All those things cause us to say `what sort of a coach am I?' 'What's my strength, and what areas could I improve on?'"
See and say
In terms of trying to "improve what we see, [and] improve what we say," McLaren said that coaches need "to think beyond explanation". "The art of getting to the hub of the matter and simplifying things is to try and come up with a drill or an activity that is going to promote change."
He suggested that just saying a boat's balance is off and needs to be improved "is not really offering enough". Many school coaches might begin correctly with a vertical hand-height drill illustrating the dramatic impact on balance of hand heights: unfortunately, he continued, such drills often may not be developed further on the water during training. "Having coxswain and crew understand that 'the low hands have the balance', for example," he said, "can create better overall crew awareness and possibility for change."
He added that four of the most helpful words a coach can use are 'it will feel like'. Creating a tangible sense of the outcomes of a change "adds another level of detail and meaning to the area of change … and helps the athlete absorb and register the information much better", he said. "'Feeling' is one of the key words athletes talk about when giving feedback" "By using that phrase and pre-empting what it 'might feel like', you are simply communicating your message on a better level."
The athlete can then pursue the 'feel' the coach has predicted, pre-empting the need for confusing explanations. Moreover, McLaren said, if a coach can use such guidance – "we're going to work on these things; it may well feel something like this … " – in a pre-training chat, "you've got a bit of a head start".
Moving forward, McLaren concluded that sharing ideas through activities such as coaching seminars should stimulate a coach "to add something small but new the very next session".
"That could be a drill, an idea, your coaching presence, training workout, or some shift in your own coaching strategy," he said. When coaches have many aspects to work on both inside and outside the boat, McLaren argued there are "always exciting areas and details of improvement available to motivated coaches".
View more content like this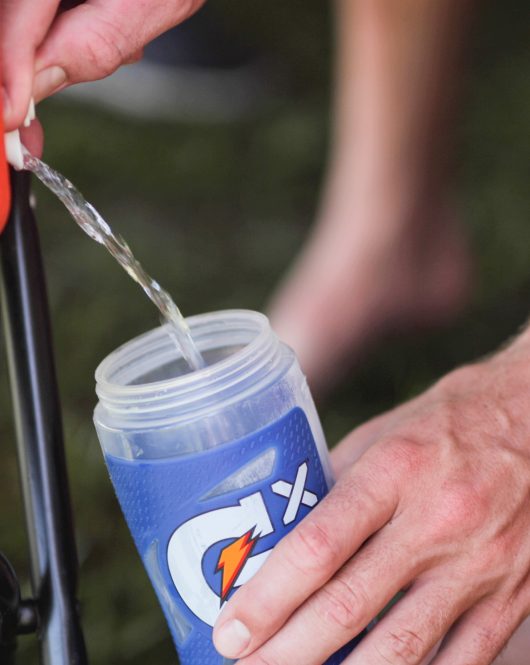 Hydration status determines performance outcome! No matter how well you have trained it will not be reflected in your performance if you are not hydrated
Hydration status determines performance outcome! No matter how well you have trained it will not be reflected in your performance if you are not hydrated