Every sports coach is different. Some are good at doing it traditionally by the book, others experiment and try new methods so they get creative and design their own ways of coaching. I cannot say one way is better than the other — I've seen so many examples of both that work well. No matter what kind of a coach you are, we all share a common truth — good coaching is crucial for athletes being able to perform at their best when it matters.
You as a coach are inherently in the position of power, however, be careful not to accidentally use this position to create athletes who completely depend on you — you want to empower them and encourage confidence and progress.
You can't make athletes do what they don't want to do for very long. A coach can impose his will on them for a while, but to truly fulfil their potential an athlete is going to have to be self-motivated — with enough motivation, they can achieve almost anything.
Coaches all too often focus on the specifics of the sport, training, tactics etc. But ultimately the job of the coach is to change their athletes' behaviour.
It is not the place of the coach to tell an athlete what they can or cannot achieve. A coach can only create the environment that enables them to find that out for themselves — an environment that makes success inevitable.
Below are the 6 habits of sports coaches that will help you get there.
Becoming an exceptional coach takes a lot of time and even more effort. However, most coaches are very passionate about the sport they are in and therefore ready to go through the hard work of getting there.
While I appreciate the fact that not everyone's journey might be the same, below I offer my own perspective of 5 stages every coach goes through as well as some insights I hope you will find helpful:
NOVICE
Don't know what you don't know
You begin coaching, you understand the sport, but you don't know how to coach. You know how you trained yourself, but do not know how to explain it to somebody else. In the beginning you coach others as you were coached, telling them what to do and probably resorting to showing them or even actually training with them.
Your first step is to stop coaching yourself and begin to understand that others learn in different ways, and may actually be far more able than you. By coaching from your perspective, you are only limiting them.
There is so much to learn, you don't even know where to look.
My advice? Speak to and spend time with other coaches.
BEGINNER
One solution for all problems
You now know what you are doing — you can write a training program, you have a series of drills that you really understand, you are organised and you are good at communicating with others and having everyone up to date. But, when you are out coaching, you see what is going on with the crew and you keep using the same drills over and over to try to make them row the way you want.
INTERMEDIATE
Many solutions to every problem
You have been coaching for quite a few years now and you have seen everything. Nothing phases you. You write a clear program, which you are very happy to change on the fly when challenges present themselves. Others may not even understand why you change things, but you are confident that it is the right thing to do.
You still have a series of drills, but sometimes you will encourage the athletes to come up with their own. You understand that there is no one model for training, that you need to work with what you have and make sure the athletes are training well and are resilient. It is more important that they know how to train, that they turn up with a good attitude and are able to make crews go fast.
ADVANCED
Can plan to negate problems
You have coached more teams than you can remember. You have done this so many times you know how each season will pan out before it does.
You know at least one of your athletes is going to have some sort of crisis and you are content to give them the space to sort that out and know that if they are the right athlete, they will come back stronger for it.
It is very seldom that anything takes you by surprise. It is almost not challenging running a program – you can do it in your sleep. The athletes get great confidence from the stability of the environment and believe in the system you have created. It seems to run itself.
EXCEPTIONAL
Create problems to build performance
Athletes need to be confident when it comes to delivering stellar performance. Good athletes – risk takers – are content to experiment and fail. Because you know this so well, you create this environment. You create a culture where the athletes regularly take risks in training — they often fail and you are there to support them with their learning.
You deliberately write the program so that they are under extreme pressure to perform. In fact, with the most robust athletes you may make them train harder during their final exams because you know they will gain confidence from being able to do all the training, get a best in any tests you give them and pass their exams all at the same time.
The training environment is a place to learn and make mistakes, away from the performances that really count. When it comes to races, you have created an athlete that has taken all the risks already. On race day they know what to do and what to expect. They just do what they have practiced and know they will execute under pressure. Success then becomes inevitable.
Some extra food for thought:
Whichever of the above stages you are in, even if you are considered to be an exceptional coach or think so yourself, make sure that while developing your athletes you don't neglect yourself. In fact, in order to keep helping them grow you will need to grow faster than your athletes.
Over time, you might learn what is needed to be successful changes and evolves — and that's where personal development comes in. You will want to keep up to date with current developments in sport and the newest trends — whether you adopt them or not is at your discretion — but make sure your knowledge is growing.
This becomes even more important if you are coaching a competitive team. Rest assured your competition won't be resting on their laurels and will be actively seeking new ways of coaching and training that allow them to make that difference that sets winners apart from others.
Happy coaching!
View more content like this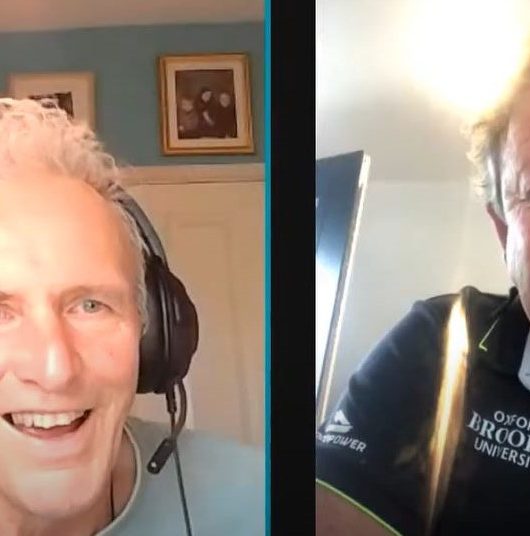 Richard Spratley from Oxford Brookes University Boat Club gave us a great interview. Him and Martin discussed some interesting topics, including what it's like working
Richard Spratley from Oxford Brookes University Boat Club gave us a great interview. Him and Martin discussed some interesting topics, including what it's like working