Technique is the most sign if a crew is fast. Getting athletes to row well is the challenge that coaches face everyday. Robin Williams gives us an insight into how a coaches interpersonal skills are key to getting athletes to make these vital changes.
Coach behaviours drive performance cultures. Realising how your behaviour as a coach impacts they athletes is key to delivering the performances that we are all looking for.
Relationships and communication between athlete and coach are a primary driver in delivering athlete performance in sport, a leading international coach told the second annual Rowers Conference, 'R2: Rowing and Technology', at Dorney Lake, UK in late January 2018.
Talking about the coaching tools that help athletes and coaches build relationships and improve athlete performance, Robin Williams said that such relationships "are really at the centre of performance".
Williams – who coached Cambridge University Boat Club (to seven Boat Race wins) and several Great Britain crews (including the gold medal women's pair at the London 2012 and Rio 2016 Olympic Games), and who works currently as a coaching advisor – said that, alongside knowing what it is that an athlete must do in a boat to make it go well, it is important to know how and why this happens.
Coaching Technique
Across the international coaching community, Williams said, today there is a large degree of agreement about what good rowing technique is. However, noting that some rowing programmes are clearly more successful than others, he argued that "performance relationships are a big part of how you get that message across."
"Every successful crew, every successful team has got a good coach behind it," Williams added. "All clubs have these phases where they're doing well, and there's a coach – there's a person – driving that programme," he said. "These people are obviously doing something more than just telling people to 'put [the blade] in, take it through, and take it out at the other end of the stroke'. There's something else at work there."
Williams said this was true of other sports, and also in the industry and business worlds. There are "Leaders who somehow manage to get across not just the nuts and bolts of what to do," he said, "but [also] the philosophy, and getting people to show the best in themselves to deliver whatever it is, whether it's profits or gold medals."
Drawing on late Harvard University rowing coach Harry Parker's argument that a coach's role is to provide the environment within which an athlete can find and bring out the personal desire to succeed, Williams said that – in setting up this coaching environment, and emphasising the cultures and values therein – a coach's job "is to display the qualities that you want from your athletes".
Coach Behaviours
"If you have vision, passion, and determination; if you're reliable and you're on time; you can be relentless and ruthless and tough, but you can also show compassion, communication, and understanding." For "all of these things," he said, "athletes look to coaches … to produce these qualities in themselves."
As regards the athletes, Williams said "rowing is littered with examples of people who have been successful despite not being the biggest, or perhaps despite not even fulfilling the written criteria that whatever system says you need to fulfil."
Williams said there are other factors at work for an athlete "beyond just the numbers that come out of the machines and what you can measure". "It's easy to turn up and it's easy to do the work," he argued. "The hard thing is to be honest with yourself and find out what your inner drivers are."
While Williams acknowledged that individual personalities can be hard to change as a whole, "I think what you can do [as an athlete]," he said, is "look at bits and pieces of your personality and find the ones which are most useful to you in a rowing context."
London 2012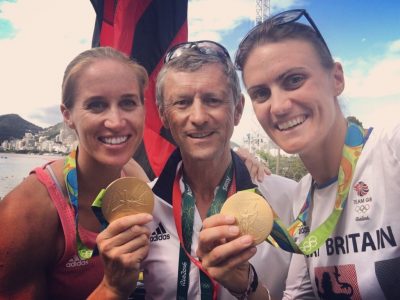 As regards building and communicating a positive pre-race mindset, Williams used the example of the double Olympic champion British women's pair and a word-based exercise they employed, called 'choosing who you are'. Williams explained that the athletes would come up with two lists of self-descriptors, one positive and one negative. "By acknowledging that both exist, you can then consciously choose the positive ones and reject the negative." Effectively, the athlete would then be saying "This is the version of 'me' which is going out there to race today," he added.
In conclusion, "Whether you are talking about trying to get technique right, or trying to get the values and the cultures in the club right, whether [the athletes] are training hard enough, whether your coaching team is working together, whatever regime you have," said Williams, "unlocking the personalities, unlocking the person within, is the message because – to me – that's what really wins the race."
Robin Williams runs 'Technical Excellence' workshops. If you or your club is interested in booking your own workshop do get in touch with him on [email protected]
View more content like this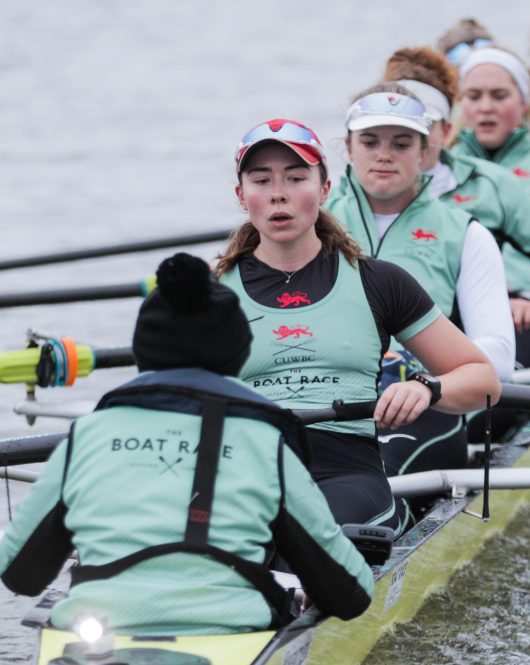 Behind scenes, serious effort is invested to keep the edge they have and go for another win against Oxford University in the 2020 Boat Race. We
Behind scenes, serious effort is invested to keep the edge they have and go for another win against Oxford University in the 2020 Boat Race. We